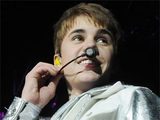 Justin Bieber and Zach Galifianakis are among those who have scored Webby Award nominations this year.
The awards ceremony, which honors excellence on the internet across websites, online film and video, interactive advertising, and mobile, announced the nominees for its 15th annual show this morning.
Bieber was nominated for his
Funny or Die
takeover earlier this year, while Galifianakis was recognised for his comedy web series
Between Two Ferns
.
Other stars to be nominated include Lisa Kudrow for her series
Web Therapy
, Jim Carrey for
Funny of Die's Presidential Reunion
and Conan O'Brien and U2 for their websites.
Arcade Fire were among the music video nominees for 'The Wilderness', while Snoop Dogg and LL Cool J nabbed a place in the branded entertainment category for 'The Ultimate Halo Smackdown'.
Other nominees included the Simon Fuller-created web series
If I Can Dream
, which follows aspiring musicians, models and actors in Hollywood, and the computer game
Angry Birds
, which was named in the best mobile game handheld group.
In the viral categories, the 'Bed Intruder Song' secured a place among the best viral video nominees, while the 'Old Spice Response Campaign' was nominated for best viral marketing.
The winners will be announced May 3. Prizes will be handed out at a ceremony in New York on June 13 where winners will have to abide by the Webby Awards policy of delivering acceptance speeches in five words or less.
The public have until April 29 to cast their votes. A full list of nominees can be found on the Webby Awards official website.