Justin Bieber and The Old Spice Guy Score Webby Nominations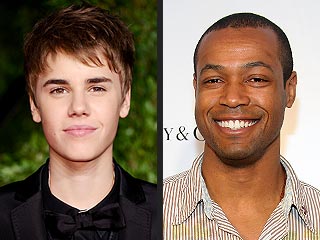 Michael Buckner/WireImage; Angela Weiss/Getty
Where can you find Bob Dylan on the same list as Antoine Dodson (the guy from the viral hit, The Bed Intruder Song)?
Welcome to the Webby Awards.
Now in its 15th year, the "Oscars of the Web" will honor a vast range of celebrities, everyday Web stars and notable sites.
Some of the better-known nominees include
Justin Bieber
, for his takeover of "Funny or Die,"
Isaiah Mustafa
(the Old Spice guy), Lisa Kudrow for
Web Therapy
, and Jimmy Fallon for his late night
show Web site
. The ever-addictive Angry Birds game scored a nod as well, in the Best Mobile Games category.
A full list of nominees is available on the
Webby Web site
, and the results will be announced May 3. The awards ceremony follows in New York City on June 13, where winners are allowed to give acceptance speeches in exactly five words.
Fallon, for one, already has a win behind him, not to mention an excellent acceptance speech: "Thank God Conan got promoted."