NEW YORK (CNNMoney) -- U.S. stocks are poised for a higher open, as investors cheer news that Osama bin Laden was killed by U.S. forces Monday.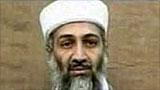 The founder and leader of al Qaeda,
Osama bin Laden, was killed
by U.S. forces in Abbottabad, north of Pakistani capital of Islamabad.
In an address to the nation Sunday night, President Barack Obama called bin Laden's death, "the most significant achievement to date in our nation's effort to defeat al Qaeda."
Dow Jones industrial average (
INDU
), S&P 500 (
SPX
) and Nasdaq (
COMP
) futures rose ahead of the opening bell, with the Dow up as much as 87 points. Futures measure current index values against perceived future performance.
Oil for June delivery slipped $2.54 to $111.40 a barrel, while gold prices backed off their peaks earlier Monday.
Gold futures for June delivery rose 50 cents to $1,556.90 an ounce, after hitting an intraday high of $1,577.40 an ounce.
On Friday,
Stocks finished their best month this year
, as investors got a confidence boost from strong earnings out of Caterpillar (
CAT
,
Fortune 500
).
The market has headed higher since the beginning of the year amid strong earnings. Despite jitters about the economy and concerns about inflation, April was the best month for the three indexes since December.
World markets:
Markets around the world had a muted reaction to Osama bin Laden's death with Britain's FTSE 100, the Hang Seng in Hong Kong and the Shanghai Composite all closed for holiday.
European stocks rose slightly in morning trading. The DAX in Germany rose 0.9% and France's CAC 40 edged higher 0.4%.
Meanwhile, Japan's Nikkei jumped 1.57% higher at the end of the session.
Economy:
Wall Street will get the Institute for Supply Management's April manufacturing index, as well as construction spending figures from the Commerce Department, both out at 10 a.m. ET.
Economists polled by Briefing.com expect the April ISM index will fall to a reading of 58.5 from March's 61.2, while construction spending figures are expected to fall 0.5%.
Investors will also get monthly auto sales figures from the major car makers starting at around 11 a.m. ET.
Companies
: For earnings, investors will get quarterly results from natural gas provider Chesapeake Energy (
CHK
,
Fortune 500
), utility company ConEd (
ED
,
Fortune 500
) and health insurer Humana (
HUM
,
Fortune 500
) among others.
Analysts polled by Thomson Reuters expect health insurance giant Humana to post a profit of $1.36 per share for the quarter.
Currencies
and commodities:
The dollar fell against the euro, but gained strength against the Japanese yen and the British pound.
Bonds
:
The price on the benchmark 10-year U.S. Treasury fell, pushing the yield up to 3.3%.